From http://www.twcnews.com by Becky Bereiter, March 4, 2015
The man charged with assaulting an elderly woman and an employee at the Cotswold Harris Teeter in Charlotte made his first appearance in court Wednesday afternoon.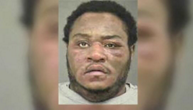 Scottie Barringer, 34, appeared before the judge in a wheelchair and suffering from a broken nose. Barringer was appointed an attorney and should he post bond, will be placed on electronic monitoring as the legal process plays out.
Police were called to the scene just before 11:30 a.m. Tuesday, March 3, 2015. They say Marjorie McOrmond, 83, was getting into her car when Barringer punched her in the face, knocked her to the ground and stole her purse and car. A Harris Teeter employee, Thomas Albergotti, tried to intervene and stop Barringer from taking off but he was also seriously injured.
Barringer was arrested a few hours later in east Charlotte.
McOrmond remains in the hospital but officials say her condition is improving. Time Warner Cable News reached out to Albergotti, who is recovering at home, but Harris Teeter refused to let him share his story with the media. The company issued this statement:
"Harris Teeter places the highest priority on both the safety of our associates and our customers, and we certainly hope our associates and shoppers are never faced with a similar incident again."
Court records show Barringer has a lengthy criminal past with charges ranging from assault and battery, car theft, and failing to register as a sex offender. One order for arrest from July of 2013 shows he has struck in shopping centers before. In that instance, he was picked up for pushing a shopping cart into the victim.
His next court date is scheduled for March 16.